If you have a backyard, hosting a backyard party for friends and family members is something that you might enjoy. Backyard parties can run the gamut from super simple and casual up to a fancy affair. Some people even host their weddings in their backyard! If you are looking for a fun way to host an outdoor get-together, consider all of the options and hold it right in your own yard. Read on for four memorable backyard party ideas to get your brainstorming session started.
Old-Fashioned Backyard BBQ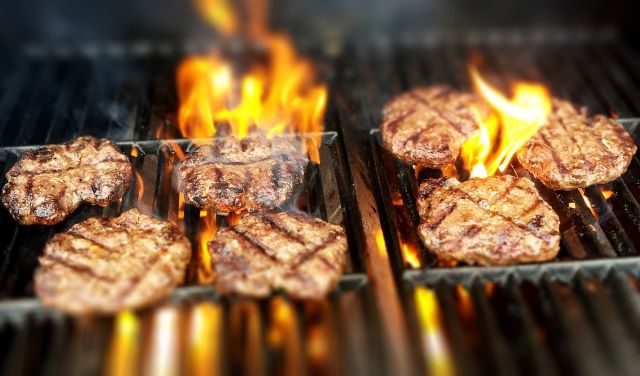 Image courtesy of Pixabay
Nothing is more classic than a backyard barbecue. Call up the neighbors, throw some hotdogs and hamburgers on the grill, whip up some potato salad, and you're ready for a memorable afternoon shindig. You can also spend some time coming up with a few creative ideas for the food in addition to the typical fare. Grill up some pineapple slices to put on the burgers; if you're feeling more ambitious, grill some boneless, skinless chicken thighs marinated in a bit of teriyaki sauce and add the pineapple to that. Or instead of plain hotdogs, grill up some bratwurst or kielbasa. A smoker grill combo gives you even more options: Start early and smoke a pork butt roast or a thick brisket for a tasty feast.
You'll want to have a few games and other entertainment on hand for your backyard BBQ. Cornhole (called "beanbags" or "baggo" in certain parts of the country) is a common favorite. A net and an inexpensive badminton set can also be a hit. If you have a pool, you'll want to have floats on hand. If not, set up a kiddie pool or two for the little ones, and watch the adults enjoy soaking their feet! (Just make sure you're protecting yourself and the littles against the sun.)1
Birthday Party to Remember
If you have a child who will be celebrating a birthday during the warmer months of the year, a backyard birthday party might be the way to go to keep the crowds out of your house and to let the kids enjoy their fun without worrying about making a mess. Food ideas here can really run the gamut. You could supply fruit, chips, cake, and soda and call it good, or you can have a potluck. If your child's favorite meal is pizza, then order a few pies and feed everyone with no hassle. When it comes to children's birthday parties, the memories are in the fun, not necessarily in how long you spent making the food.
Games for a birthday party should revolve around kid-friendly favorites. Hide and seek is always fun, and even more so if you have trees, play equipment, and other objects for children to hide behind, on, or in. Ring tosses and catch games are great for kids. If the weather is hot, consider water guns or even water balloons to help the party-goers cool off. Of course, a rented bouncy house or arranging for an ice cream truck to stop by would make the party extra memorable for your child and his or her guests!
Evening Gala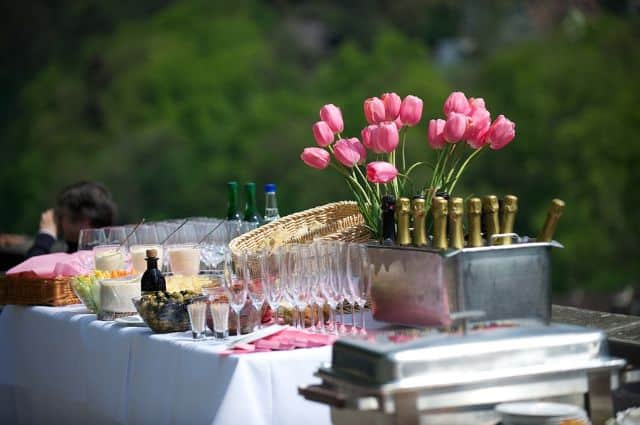 Image courtesy of Pixabay
Backyard parties don't have to be strictly casual or held during the afternoon. You could host an evening party in a well-appointed backyard that rivals any indoor bash. This can be as fancy as you want it to be. Start off with your lighting: Twinkle lights suspended from a pergola, trees, umbrellas, or other high structures add magic to the ambiance. Strategically placed tiki torches do double duty by adding some light and also keeping mosquitos at bay. Lanterns, either on surfaces or hung from branches, will also add to the visual appeal while providing light.
You could rent an outdoor dance floor if you want your guests to move to the music. With custom playlists on music-streaming apps, you really don't need to hire a DJ. Just be sure you have ample speakers to keep the sound at a comfortable level throughout your party space. Your deck or patio is another good option to set up for a ready-made dance floor and stereo system. Just clear off any furniture in the middle so there's plenty of room.
A sit-down dinner or buffet would be appropriate for this type of gathering. You can even have it catered if you're looking to minimize the stress in your life.2 The catering company might also be able to rent you chairs and tables, cutlery, dishes, and more.
Gathering 'Round the Fire
Speaking of nighttime backyard parties, a casual bonfire in your own fire pit is another fun way to hang out with friends while enjoying your backyard oasis. Fire pits can be purchased or you can build your own out of landscaping pavers. Surround it with Adirondack chairs or your regular patio furniture, and set up some tiki torches to keep bugs from bothering your guests. The perfect bonfire food is hotdogs roasted on the fire on long skewers and s'mores, of course. Consider adding peanut butter cups, bananas, flavored marshmallows, or white chocolate for extra interest.
Entertainment for this type of party could range from ghost stories to a campfire singalong to simply allowing everyone to talk and bond over the fire. If they're legal in your area and you have a safe place to set them off, you might also consider lighting some fireworks as the night wears on.
A backyard party is a wonderful way to enjoy your outdoor living space. There's something about the fresh air and the extra room to move around that makes every outdoor gathering a bit special. Try one of these ideas for your next get-together and take advantage of the yard you've put so much work into creating!
Article Sources
Home Life Daily uses only high-quality sources, including peer-reviewed studies, to support the facts within our articles. Read our editorial process to learn more about how we fact-check and keep our content accurate, reliable, and trustworthy.
Dowd MD. Treatment and Prevention of Pediatric Sunburn. Pediatr Ann. 2019;48(6):e213-e214. doi:10.3928/19382359-20190520-02
Marin MF, Lord C, Andrews J, et al. Chronic stress, cognitive functioning and mental health. Neurobiol Learn Mem. 2011;96(4):583-595. doi:10.1016/j.nlm.2011.02.016