The best time to buy a grill is before you really want one or your old grill fizzles out. The second best time to buy a grill is before you can smell your neighbor's BBQ wafting over the fence, and become jealous they're partaking in deliciously cooked food. But in reality, the best time to purchase a grill is in the off-grilling season. As you might imagine, if you buy a grill at the height of outdoor cooking season, you could end up paying more expensive prices, as well as having less stock to choose from.
Where (and When) To Buy a Grill
Brick and mortar stores, such as large retail chains that sell home goods, give you the option of checking out the grill in person so you can see firsthand what you're actually buying. Typically, these stores offer sales during national holidays (like Memorial Day) or early spring, right before grilling season starts.1 You'll also find new inventory this way since stores like to stock the latest and greatest new thing. After grilling season, typically around Labor Day, you may find discount sales as businesses get rid of old inventory or floor models.
Grills are also sold online, where often the inventory is extensive. Many online sellers run sales somewhat randomly throughout the year, in which case you'll need to keep an eye out for some bargains. But companies like Amazon run large sales during big holidays, and often have their own yearly massive sale, such as Amazon Prime Day.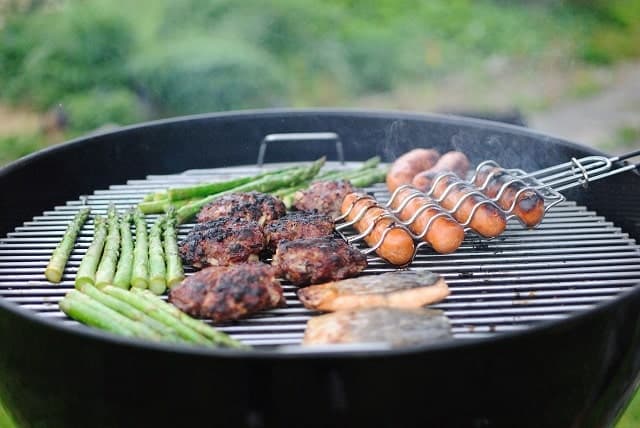 Photo courtesy of Pixabay
Different Types of Grills
With such a wide range of grills to pick from, take your time to decide the best grill for your cooking needs. Choose from gas, charcoal, and pellet grills. Each type of grill offers special features unique to its cooking method.
Gas grills are easy to use – they work very similar to your kitchen stovetop and rely on propane or natural gas for fuel. From small, portable grills to larger ones, gas grills can cook a variety of foods, such as burgers, hot dogs, chicken, and vegetables.
Charcoal grills use coals to keep your fire burning. They require a bit more work. You adjust the airflow through the coals to keep your fire and heat reliable for cooking.2  Any number of foods can be cooked on a charcoal grill, but you must constantly maintain the fire by adding coals or moving them around.
Pellet grills use wood chips, such as hickory, oak, and mesquite to add a natural wood flavor to your foods. These grills come with a thermostat so you can precisely control your cooking temperature, convenient for cooking a myriad of different foods.
If you want to get fancy, grill combos are also available for utilizing multiple cooking methods. Grill combos such as a grill and smoker, grill and range top, and grill and griddle can use gas, charcoal, or wood pellets.
Kamado grills are technically charcoal grills, but they're deeper and have a smaller cooking surface. This allows for quick grilling at high temperatures, for foods such as pizza.3Other types of grills include tabletop or camping grills, which offer the user a chance to cook for one or two people.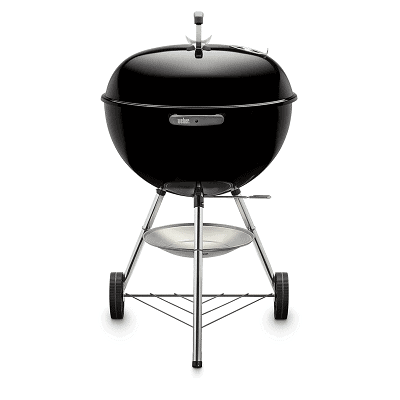 Photo courtesy of Weber
Best, Affordable Grills
While there is endless debate about which type of grill is best – charcoal or gas, the most affordable grill is usually the charcoal grill.4 They go for around $25 to $100, but more elaborate ones can cost up to $750. The grill itself is fairly simple, and bags of charcoal are found in most retail stores that sell home supplies. Brands such as Weber and Kingsford are popular for charcoal grills, while Char-Broil and Master Cook are often recommended for gas grills.
Grill Necessities and Accessories
Now that you have chosen a grill, what's next? You might already have some kitchen utensils on hand that you can use for your grill, but some grills require cooking tools made specifically for handling the grates and hot temperatures.³ Look for stainless steel tongs or spatulas with long handles for flipping burgers or steaks without burning your hands. You'll also need a grill brush or scraper to keep the grates clean and ready to use. Other accessories include metal skewers, rimmed sheet pans, and cast iron skillets.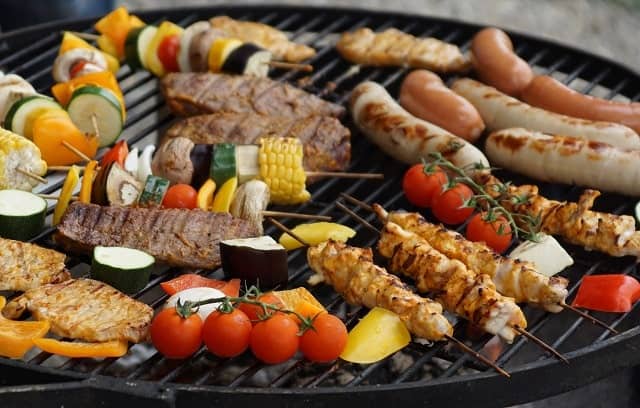 Photo courtesy of Pexels
What To Cook On a Grill
You don't need to stick to just hamburgers and hot dogs. The sky is nearly the limit when choosing what to cook on your new grill. From roasts to vegetables to seafood and potatoes, grilling adds flavor and depth to just about any meal. And if you choose a grill with a griddle, try your hand at Sunday brunch items like bacon, sausage, pancakes, and eggs. Slow cook roasts, chicken, steak, salmon, or pork in a smoker for a multilayered grilling experience.
The best time to purchase a new grill depends on whether you're buying one for the first time or looking to replace the one you already have. If you're on a budget, waiting for sales in early spring or late summer is your best bet. However, if money is no object, then the start of grilling season may give you more of a selection for the most up-to-date, brand-new styles and models on the market.
Article Sources
Home Life Daily uses only high-quality sources, including peer-reviewed studies, to support the facts within our articles. Read our editorial process to learn more about how we fact-check and keep our content accurate, reliable, and trustworthy.