Going to the movies is fun, but with streaming services available to just about everyone, hosting a family movie night at home can be even better. When you view the latest blockbuster at home, the popcorn is (nearly) free, there isn't a line for the bathroom, and the movie can be paused or rewound if needed. You also get to control the volume and the room temperature, which simply isn't the case when you go to a movie theater. It's best to do some planning before holding your family fun to boost your chances of success. Keep reading to learn about the five essentials for the perfect movie night at home.
Refreshments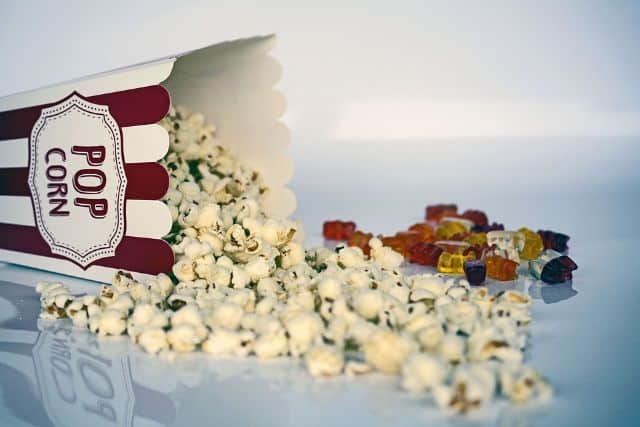 Image courtesy of Pixabay
When you go to the movie theater, there's nothing like dipping into a big, buttery bucket of popcorn. You can, of course, provide the same delicious snack at home for your movie night. The easiest way is to simply pop a bag of microwave popcorn. To make for a more special movie munchie, though, consider popping a big pan of kernels on the stove in a heavy saucepan. If you are feeding a crowd, use the big pot that you use to boil spaghetti or make soup. Coat the popped corn in butter and salt, or do something a bit different and drizzle it with caramel.
If popcorn isn't your thing (or you want something else), store-bought candy is often a hit. Go to the dollar store or drugstore and pick up boxes of classic candy for a dollar or two per box. Or whip up a batch of chocolate chip cookies–slice and bake will do if you're not up for making them homemade. If you're looking for something more like a meal, consider hotdogs and fries or maybe nachos with cheese sauce. Don't forget beverages! Root beer floats or sparkling water with fruit slices floating in it might be exactly what your family needs. Of course, showing the movie at home means you can also make healthier choices, too.1
Comfortable Seating
Chances are good that you have plenty of seating in your living room, but if the kids tend to sprawl out on the floor, they might get uncomfortable after a two-hour movie. Throw some beanbag chairs down for a bit of extra support. You might even bring a twin mattress or two into the room so kids can lay down; with any luck, they just might drift off toward the end of the movie, leading to an indoor "campout" for those who want to participate.
If you're thinking about holding your movie night outdoors (more on that in the next section!), you'll want to have chairs that you'll be comfortable in for a few hours. Adirondack chairs or reclining lawn chairs will give you the ability to lean back and enjoy the show. Children might be just as comfortable sprawled out on a thick blanket spread out on the grass.
A Big Screen
In your house, you likely have a television that you'll be viewing the movie on. Your TV will be a good choice whether you're playing a DVD or Blu-ray or streaming it from one of the popular streaming apps. Of course, you might also be going old-school and watching the movie on cable!
If the weather is nice, you might consider screening your movie on the side of your light-colored house or on the garage door. This doesn't have to be cost-prohibitive! There are plenty of affordable movie projectors available – including options under $200 – that will allow you to enjoy your movie under the stars. Set it up, center it on whatever white or light-colored wall you have available (or hang a white sheet against a darker background), and watch your film on a really big screen! (And don't stress whether the projector is bad for your eyes!)2
Cozy Additions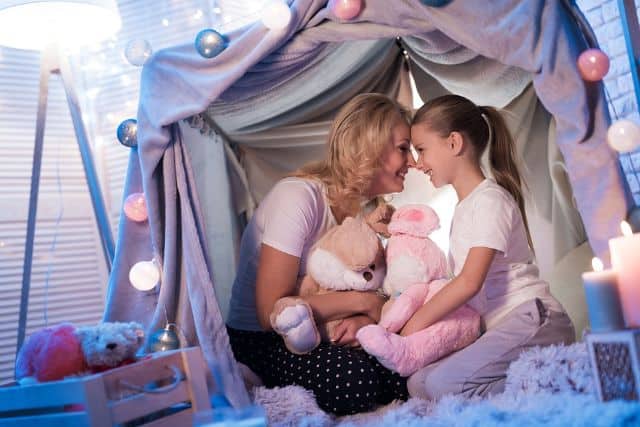 Image courtesy of Pixabay
One of the advantages of having a movie night at home as opposed to in the movie theater is that you have all of the comforts of home available. Make your movie den cozy and comfortable by bringing in soft blankets and plenty of pillows. You might even build a movie-watching fort out of blankets or sheets! Dim the lights to make it feel authentic, or leave the lights on and set up a puzzle or a quiet game that requires minimal concentration on the coffee table. This will give your family members something to do if they're not fully interested in the movie itself.
A Lack of Distractions
Something nice about watching a movie as a family is that the entertainment is built in. Nobody will need to be texting or Instagramming; everyone can either watch the movie or just enjoy spending time with the rest of the family. Make the same rule that exists in the movie theater about phones and electronics: Keep them on silent and don't turn them on, as it will bother fellow movie-watchers. You also might turn off the sound on your landline phone (if you have one). Take this time to just relax together and keep the rest of the distractions silenced for two hours or so.
Your family movie night can be an occasional activity or a regular routine that takes place every week or month. Making it special will lead to long-lasting memories that will be talked about years down the road. Enjoy the show!
Article Sources
Home Life Daily uses only high-quality sources, including peer-reviewed studies, to support the facts within our articles. Read our editorial process to learn more about how we fact-check and keep our content accurate, reliable, and trustworthy.
Wong S, Pauzé E, Hatoum F, Kent MP. The Frequency and Healthfulness of Food and Beverage Advertising in Movie Theatres: A Pilot Study Conducted in the United States and Canada. Nutrients. 2020;12(5):1253. Published 2020 Apr 28. doi:10.3390/nu12051253
Sliney DH, Stack C, Schnuelle D, Parkinson J. Optical safety of comparative theater projectors. Health Phys. 2014;106(3):353-364. doi:10.1097/HP.0b013e3182a5fc47