The kitchen is the heart of the home, and some homes have bigger "hearts" than others! A small kitchen can be perfectly cozy and comfortable, but you might choose to make a few accommodations to open up space and make it look a bit more spacious. Read on to learn about how you can make a small kitchen look bigger, save room on your countertops, and enjoy a bit more space for cooking, dining, and spending time with your family.
Clear the Clutter
The quickest and surest way to make your kitchen look larger is to clear off the horizontal spaces. This means the counters, the island if you have one, and the kitchen table. If your counters tend to attract piles of mail, extra pens, and other clutter, find a place for those items to go. Alternatively, you could put out a basket or a tray that is meant to corral these items until you go through them, which you should do each day. This will keep the area tidy and will make it look larger. You don't want to undervalue the importance of the organization, either. Organizing is frequently shown to e a useful aide in stress management.1
You might wonder what to do if you have a lot of appliances on your counter. You might need to make some decisions. Do you really use that juicer, waffle-maker, or air-fryer often enough to give it prime kitchen real estate on your counter? If you have a pantry, do you have room on the floor or on a high shelf for these items? Think about what you use on a daily (or near-daily) basis and leave only those items on the countertop.
Use Your Vertical Space
Image courtesy of Pixabay
If you don't have a lot of storage space, putting up shelving will allow you to keep the other surfaces in the kitchen clearer. This, in turn, makes the whole space look bigger. Perhaps a shallow bookcase, painted to complement your kitchen, would fit tucked away in a corner. You could use the shelves for cookbooks, candles, even your spices. This gets these items away from the food-prep areas.
An overhead rack that allows pots and pans to hang down will free up some of your cabinet space and also add visual interest to your kitchen. You can also set up a drying rack over your sink that allows you to put hand-washed items up and out of the way rather than keeping a drying rack on the counter itself. Mugs can hang on hooks under the cabinets. And speaking of cabinets, don't neglect to use that space above your top cabinets and on top of your refrigerator! Many people use it for decorations, but you can easily use it for storing items that you seldom use, keeping them out of the way.
Choose Smaller Appliances and Furnishings
Once you've purged some of your lesser-used appliances, you might find that the ones you have are just too large for the space. Look for items like compact coffee makers, toasters that accommodate two slices of bread rather than four, and perhaps a smaller slow-cooker or air-fryer if you don't have a large family. The point here is to focus on its scale: When the items on the counter are smaller, the room will naturally look larger.
This also goes for the scale of artwork, furnishings, and other items kept in the kitchen. A huge table and chair set is going to make a small kitchen feel cramped, while a narrow high-top might be just the thing for a diminutive room. At the same time, don't overcrowd your walls with a lot of large art pieces; consider making a gallery wall or just hang a few of your favorites.
Reflect the Light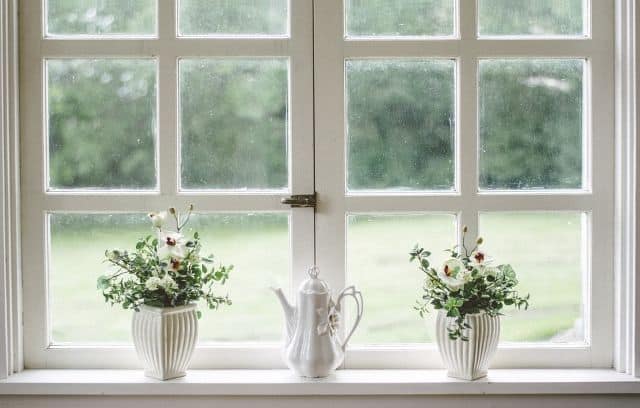 Image courtesy of Pixabay
A small kitchen will look even tinier if it's dark or dull. Open up the curtains and let the sunshine in! You might also install some bright overhead lighting; recessed canister lights are popular in a kitchen because they are level with the ceiling and bestow a bright glow. If you have a skylight, be sure it's clean and able to let in as much sun as possible; if you're in the position to consider construction, think about adding a skylight to your wish list!
To make that light go further, hang a mirror in a strategic location to help reflect sunlight throughout the room. If you're ready to upgrade appliances, think about whether stainless steel would go with your kitchen, as the reflective surface will help the light go even further. If you're painting, semi-gloss or satin paint reflects light and also has the advantage of being more scrubbable than flat or eggshell finishes.2
A small kitchen can have the appearance of a larger kitchen when you remove excess clutter, use your wall space and other verticals pace, pick out smaller appliances and furnishings, and choose reflective surfaces to help spread the light around the room. Be creative with your use of color and textures, and you'll have a kitchen that shines with personality despite its modest size!
Article Sources
Home Life Daily uses only high-quality sources, including peer-reviewed studies, to support the facts within our articles. Read our editorial process to learn more about how we fact-check and keep our content accurate, reliable, and trustworthy.
Moderator. Why Does Organizing Help with Anxiety? sova.pitt.edu. Published 16 Oct 2016. Accessed 8 Oct 2021.
Painting Kitchen Walls. hgtv.com. Accessed 8 Oct 2021.